Today, you have many options for making your smile more beautiful, and dental veneers can give you the look you need to meet your goals and increase your personal confidence. Porcelain veneers are incredibly comfortable and look amazing whether you use them on only one or two teeth or on all of your visible teeth.
Our dental experts at Hometown Dental in Hesperia, California, can help you reach your dreams for a gorgeous smile. Whether you want to cover up a small imperfection, create whiter-looking teeth or increase the size of some very small teeth, our affordable veneers are the safe yet effective answer for your needs.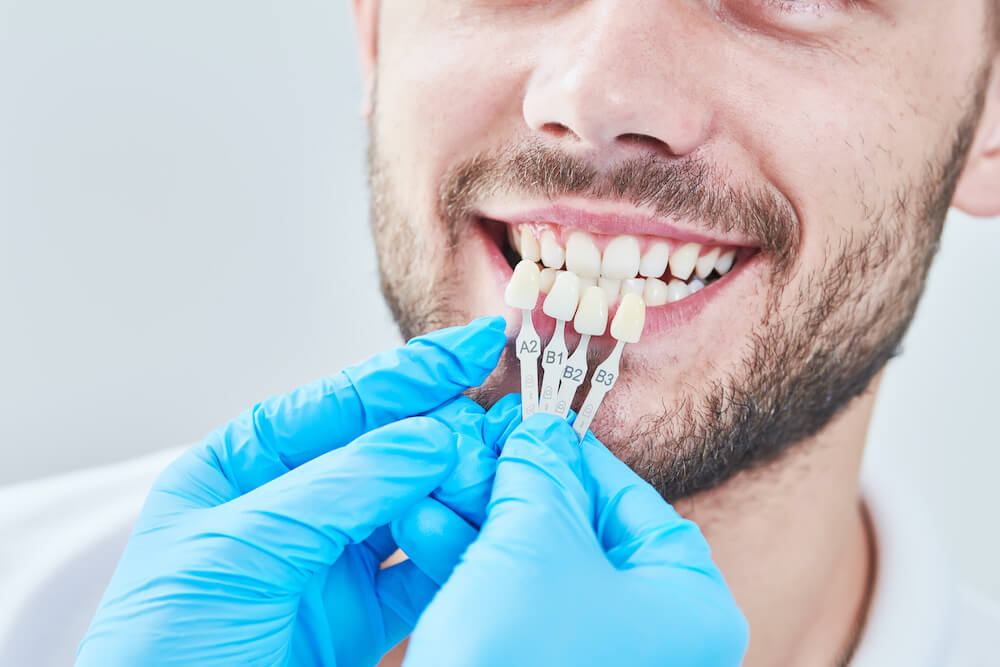 What Are Porcelain Veneers?
Dental veneers are very thin, tooth-colored shells that fit over the fronts of your teeth to create a newly perfect look. Unlike crowns, which cover the entire tooth, veneers cover the fronts of the teeth only. Veneers are not removable but are permanently bonded to the teeth. The procedure for placing them is simple and comfortable, and it only takes two appointment times to complete.
While veneers can be made from composite resin, porcelain veneers are especially well-loved because of their strength and durability. Plus, porcelain does not pick up stains as readily as resin does and does not require as much natural tooth material to be removed prior to placement thanks to the incredible thinness of the veneer.
When Can Dental Veneers Be Used?
Dental veneers are generally used for aesthetic purposes to create a more beautiful and perfect smile. Some people use them to cover a single tooth that has been chipped or broken or to make a few teeth appear wider or longer. Others cover all of their front teeth that are most visible when they smile to create the appearance of whiter tooth enamel. Still others use one or two veneers to fill in gaps between teeth or to correct the look of minor misalignments in the teeth.
What Are the Benefits of Porcelain Veneers Near Me?
You can easily imagine some of the benefits of choosing porcelain veneers. By getting a more perfectly symmetrical smile, you will love your new look and will feel more confident whenever you are in public. Your smile will no longer detract from who you are or from what you do. In addition, because veneers can last for up to 15 years, you will not have to worry about how your teeth look for quite some time. When the time is right, veneers can be easily replaced.
How Can I Care for My Dental Veneers?
Once your veneers are in place, you can treat them almost exactly as you treat your natural teeth. Be sure to brush them twice each day and to floss around them daily. You will need to come back in for regular dental appointments every six months so that your Dr. Pipkin can ensure that the veneers are still in excellent condition. However, you will need to be careful about eating very hard or sticky foods, which could break off the veneers. In addition, be sure that you do not chew on hard items, such as your fingernails or pencils.
Where Can I Find Veneers Near Me?
When you decide that porcelain veneers are right for you, you will want to find an expert who has years of experience in creating and applying veneers. When applied correctly, veneers can last for years and look incredibly natural. Our goal is to help you get the dental treatments you need while staying within your budget. Contact our office today to learn more about how affordable veneers can improve the beauty of your smile or to set up an appointment time with a dental professional.